International Symposium Plant Growth & Form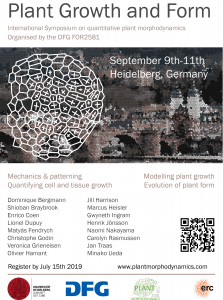 An international Symposium on Quantitative Plant Morphodynamics
September 9th-11th in Heidelberg, Germany
Welcome
Plant Morphodynamics is a research consortium funded by the German research foundation (DFG) consisting of biologists, physicists and computer scientists interested in understanding how plants shape their organs. You will find here all relevant information about the participants, their research and the activities of the group.
---
Latest news
The Research unit Plant Morphodynamics was involved in the recent EMBO / Company of Biologists course on plant live imaging that took place at ItBM in Nagoya (Japan).
0 comments
On 26th March 2019 FOR2581 Quantitative Plant Morphodynamics research unit held its 4th meeting at the Technical University of Munich. The group was delighted to have Dr. Célia Baroux as a guest, who held a talk about the contribution of ovule patterning to reproductive lineage establishment in Arabidopsis. In addition, the PIs, PhD students, and…
0 comments
The FOR2581 will hold its symposium on quantitative Morphodynamics on September 9th-11th in Heidelberg. We gathered a very nice line up of speakers to discuss plant morphogenesis. All details can be found here.
0 comments
---
---
---